Just as the title confidently announces, the cycle focuses solely on the subject of colour and more precisely on its effect. The arena of this 'spectacle' is the square, the circle is its protagonist. All of the CHROMATICS paintings radiate with a matured light that could be construed as the embodiment of an inner light.
 It can equally be interpreted as the key to the emotions and to a spiritual dimension. Ernestine creates with her large-format CHROMATICS paintings "fields of presence" using  colour merely as an aid, an "instrument for eliciting a basic human emotion".
This serie gives an insight into Ernestine´s artistic colour cosmos during the lock-down phase 2020-2021. The social isolation influences her cretion- and transformation process and triggers a further developement. The result of this process are CIRCELS arranged in different set- installations. In a nutshell: "Colour Pop Ups" – "Colour Clouds" or "Colour Cluster" Wooden disks in varied colour shades are made in various sizes ranging from XL, L, M, S and miniature sizes.
The circular lines drawn on the wall create the connections and networks between the coloured discs and reflect the most primal human need for community. We humans form an invisible network of relationships – a network of transactions, conversations, encounters and clashes. The artists "colour circle installations" are a reminder of this expression of human relationships, the celebration of their complexity and illuminate the power of an inherent, collective intelligence.
CIRCLES – colour pop ups | turquoise | orange | ultra blue
CIRCLES – bali colour pop ups I 9 disks
CIRCLES – colour pop ups I red I green I magenta I orange I yellow I turquoise
CIRCLES –  colour cloud I 31 disks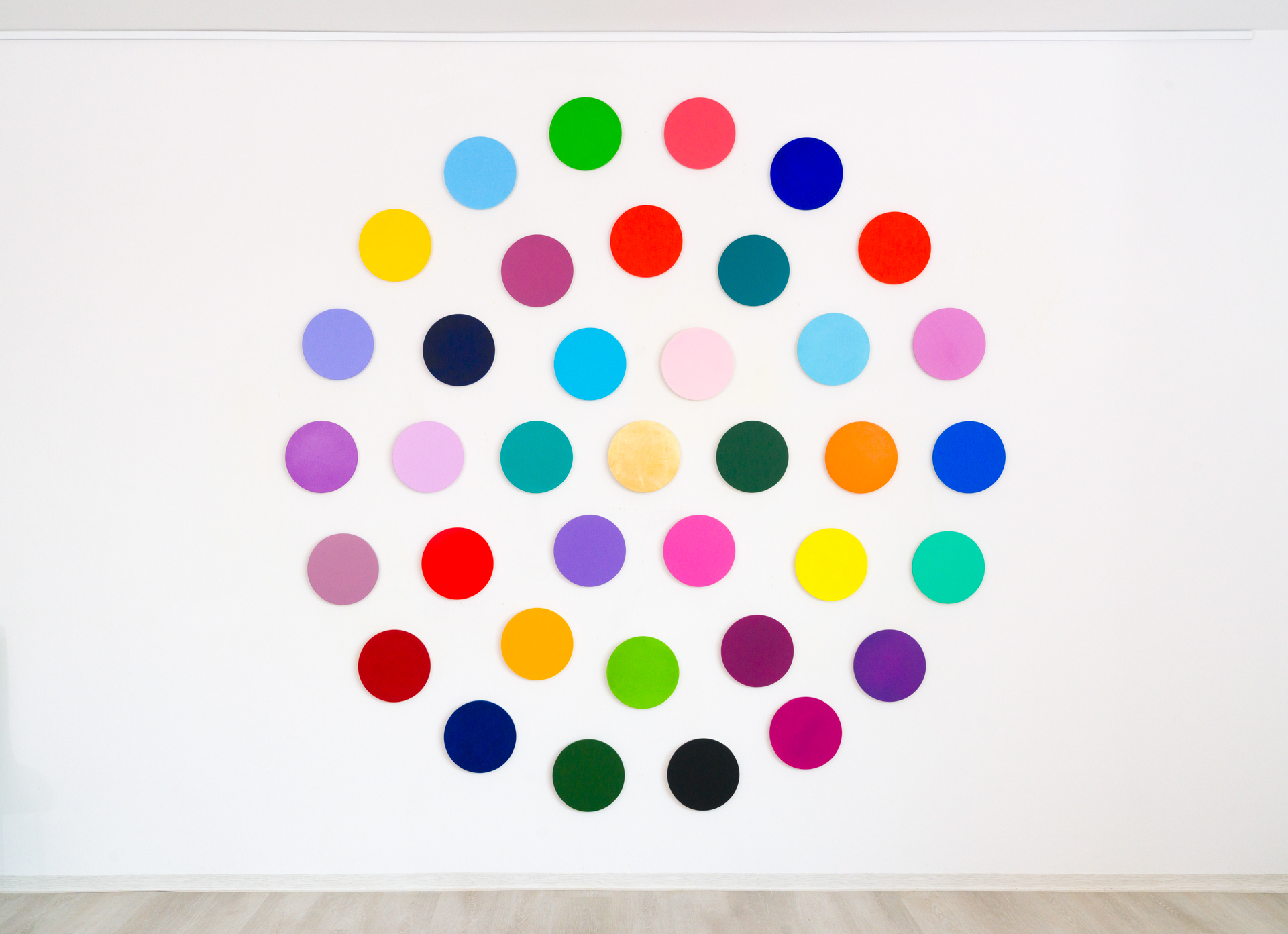 CIRCLES – colour cloud I circle installation I 37 disks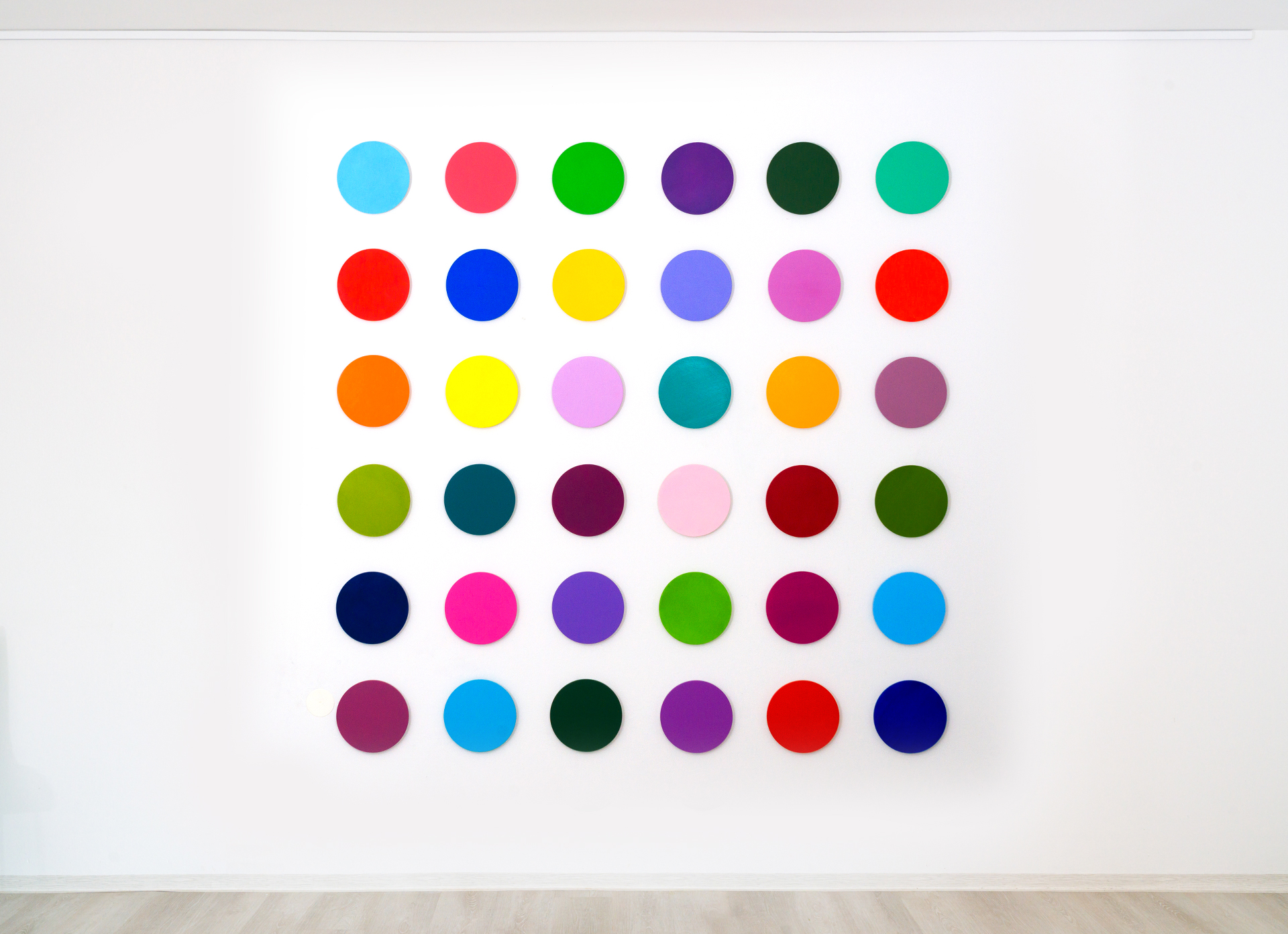 CIRCLES – colour cloud I square installation I 37 disks
CIRCLES – colour cloud I re-essambled installation I 4 disks I 12 disks I 30 disks
Our universe is black and when we illuminate the black space, colours become visible. In terms of content, I dealt with the connection between colour and "signs" in the paintings Colour Symbols, namely around a newly interpreded "Colour-Sign-Font". In this cycle I am concerned with making
all the colour nuances visible and tangible, at the same time I use symbols as the circle, the iosceles cross and triangle, spare, etc. as "signs". It is important to me to detach, them from the traditional use of past cultural simulations and reinterpret them in a new way.
The underlying shading of these paintings is dominated by dark tones, creating a chromatic atmosphere that enshrouds the centre in a darkness tantamount to visual silence.
This spatial chromatic muteness is subtly accentuated by the layers of colour, which become brighter and increasingly luminous as they extend to the edges.
DIAMONDS I ultra                                                                                                                                                           DIAMONDS I lilac
DIAMONDS I orange red                                                                                                                                                DIAMONDS I magenta red
DIAMONDS I black into white                                                                                                                                       DIAMONDS I white into black
DIAMONDS I indigo turquoise – two hanging options                                                                                                DIAMONDS I red blue – two hanging options
DIAMONDS I turquoise blue – two hanging options                                                                                                  DIAMONDS I magenta pink I lime green
DIAMONDS I reliefs I white into yellow – left painting                                                                                               DIAMONDS I yellow into orange red – right painting
The 'glossy colour' cycle is a testimony to the artist's inquisitive spirit, not only in relation to the formal or chromatic aspects of painting but also the physical dimension of colour. As already implied in the term 'glossy',
the focus in these paintings is mainly on new possibilities of perception and novel appearances of the painting or colour surfaces, achieved through an admixture of reflecting colour particles to the paint..
This concept ensures the painting a vital, vibrational balance between calm and movement, beginning and end, the line and the plane,
and opacity and transparency, thus adding force to the impression of the paintings as a visual "place"
PLACES I melting heART II 
PLACES I melting heART III – ultra
PLACES I melting heART IV – red
PLACES I klimARTzones III – shades of green
PLACES I klimARTzones II – shades of blue
PLACES I klimARTzones VII                                                                                                                    PLACES I klimARTzones VI – sold
PLACES I melting sienna                                                                                                        PLACES I melting lilac
PLACES I red gate                                                                                                                      PLACES I melting yellow into violet
The dominant figure in the 'portals' paintings is a sleek, globe or upright ellipse, a geometric shape that when drawn precisely requires two focal points. This intimates the symbolism underlying the series: polarity and unity. The atmosphere thus created by the colours
does in fact suggest movement or a suction from the outside inwards, and gives the round ball or ellipse the appearance of a portal or threshold, a passage leading from real space to image space, from linear time to image time, from viewing to seeing.
The ORGANIC FORMS rise from the wall and penetrate into space, keeping the wall as the base surface.  Thus, the specially designed, curved, rounded and raised surface of the objects began to play an essential role, based on forms that occur in nature. Everything in human bodies and nature is round and sensually arched, this seemed to be the next lobical step,
to create objects detached from the conventional square picture frame and my usual strong colour shades, in order to make light the most important protagonist. This "organic objects" are created out of pure joy of manual processes, that convey a lightness and ease of floating. Due to the light-reflecting colour-pigments, they become true "light-catchers".
RELIEF I ultra blue – gold I CONCAVE
RELIEF I ultra blue – gold I CONVEX
RELIEF I black – copper I CONCAVE
RELIEF I black – silver I CONCAVE
RELIEF I black – gold I CONCAVE
RELIEF I black red I gold I CONCAVE
RELIEF I red I white I CONCAVE
RELIEF I ultra blue I white I CONCAVE
RELIEF I black I white I CONCAVE
RELIEF I gold I white I CONVEX & CONCAVE
The basic chromatic mood – and the 'image time' – of the large-format paintings of the 'skys' series is twilight; whether dusk or dawn is meant, remains an open question. With the diptychs, consisting of two square canvases, the artist alludes to a mutual reflections of
dusk and dawn.                                                                   The three-part works, which are also composed of squares, portray the 'light event' occurring during twilight as a 'moving picture' similar to a film.
The series simply entitled 'squares' is Ernestine Faux's variations on the Huldigung an das Quadrat (Homage to the Square, by Josef Albers) and as such
a witness to the inexhaustible potential inherent in this shape, second only to the circle in its geometric perfection.
SQUARES – coral red I blue green
SQUARES – ultra blue I triptych I hanging options
SQUARES – cobalt blue I magenta I tritych
SQUARES – couple yellow grey I couple indigio yellow
SQUARES – couple red black I couple red white
SQUARES – red into black into white I triptych I  indigo into red
SQUARES – gate red I song of life green into yellow
Circle segments, drawn within squares and rectangles, are repeated in sequence, revealing a wave form. The elements of the paintings are predominated by shades of magenta and reddish orange.
The choice of colours reinforces the symbolism and effect of the wave as an expression of pulsating energy.
WAVES – orange I green I black I blue
WAVES – red – magenta – reassemble III
WAVES – red – magenta – reassemble III a + b
WAVES – mas millenium wave VII
WAVES – rose – blue – reassemble II
WAVES – blue – rose – reassemble II
WAVES – rose – blue – reassemble II a
WAVES –  green I blue VIII
WAVES – turquoise – orange IX
WAVES – flame – reassemble I a
WAVES – flame – reassemble I b
WAVES – flame – reassemble I c